Children's Book in Print or Digital Formats
Printed Book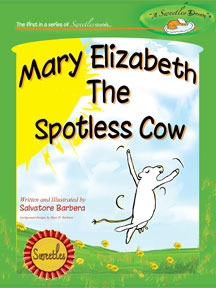 Click image for more…

Printed book $17.99 Price
Ideal for children ages 3-10. Fun to read with humor for parents, caregivers and kids. Meet Mary Elizabeth, a new cow at the farm, whose lack of spots makes her unwelcome. She needs to figure out how to make friends. Her clever way of doing that gets the rest of the cows to like her. 32 pages. Order from Amazon directly. Thank you!
Save
Save
Save
Digital E-Book
Click image for more…

DIGITAL E-book Price $5.99 
FREE TO THE END OF THE YEAR!
A story about how to make friends for young readers (ages 3-10). A fast paced colorful, fun picture book for kids that gives them ideas on making friends when you're different from everyone else. IMMEDIATE DOWNLOAD: for tablet or kindle.
Save
Save
Click the video to preview the entire Mary Elizabeth The Spotless Cow Book before you buy!