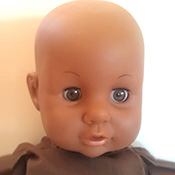 Weather – On Location
Earl 'Storm' Prince is a fearless weather reporting baby.
Prince is always willing to go out on location to get the story, even in the most dangerous storm. At only weeks old, says Prince, his momma caught him crawling outside. He says it was to experience the weather first hand.
As the second part of the weather team at For Cryin' Out Loud Baby News (FCOL-BN TV), he jokes with reporter, Maria, that he's never seen a storm that will keep him inside. This makes her cry. But he just smiles.
Apparently "Storm" was born to be a weather reporter. This baby is fearless in the face of Mother Nature. He's happiest cracking weather jokes and spitting in the wind. (Which is gross and usually backfires). Prince has been know to say: "I'm too young to know better." We'd have to agree. Storm,  weather reporter extraordinaire.