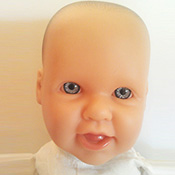 News Anchor
Lincoln enjoys being a News Anchor but says it's probably not for everyone.
Lincoln Blue, the co-news anchor baby on FCOL-BN TV news is from Greenwich, Connecticut.
∇
He's been lead anchor for FCOL-BN TV news for the past 12 months – that's 48 weeks in baby language. Lincoln has an M.B.A.(Master of Baby Arts) in broadcast journalism and a B.A. (Baby Arts) in English. His other qualifications include the ability to forgo afternoon naps, write the ABC's up to the letter 'Q', and keep a meticulous eye on what he wears everyday.  'Babies in onesies don't make it in this business' says Lincoln, 'you must be able to wear grown up clothes to succeed."
∇
At only eight weeks old, Lincoln decided that he was going to be a TV reporter. "I really wanted to be a baseball player, but I when I wrote my first A from ABC my parents encouraged me to take a safer, more reliable job."
∇
He says being a news reporter might not be the right career for everyone. If you think that what he does all day is sit at a desk, think again. According to Blue, reporting is having to change a diaper in 10 degree weather at 1 in the morning during a three-hour baby owl standoff.
---
Check out the intro film: For Cryin' Out Loud Baby News!

---