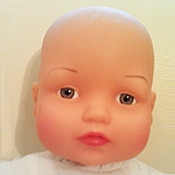 Traffic Reporter
Flo Flyover is a traffic reporter that loves cars.
It might be because she was born in a Fiat on the autobahn going from Italy to Germany.
Growing up in Rome, she was used to narrow lanes, scooters and tiny cars. But after moving to America, she became enthralled with BIG cars: SUV's, mini vans, hummers. She likes to be in traffic.
Flo is a fast talking, fast driving, fast thinking baby girl with a bit of bragadoccio. if there's a car involved it's her story. This baby looks for any sign of a traffic story and will report on the mini stack, mini van or even sport car with bird poop.
Check out her hourly traffic reports on the next broadcast of For Cryin' Out Loud Baby News (FCOL-BN TV).