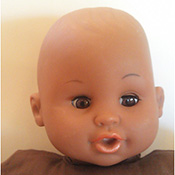 Entertainment Reviewer
and Critic
Robby Eggbert, or Eggy, as he's fondly called by his friends, is a baby that sleeps, eats and dreams movie quotes.
Genuinely interested  in all things entertainment related, Eggy impresses even the most jaded movie lover with his amazing knowledge (for a baby) of actors, actresses, directors, film history and celebrities.
He and co-hort critic Gene CeCe, created the ⇒BNAFBAWE⇐
♥ Baby News Awards For Best And Worst Entertainment ♥ in order to dole out the golden 'Thumbs Up!' and 'Thumb Suck!" awards.
Watch CeCe & Eggy, on For Cryin' Out Loud Baby News (FCOL-BN TV) as they voice their opinions on movies, TV shows, web series and YouTube videos.
Stay tuned for entertaining reviews.