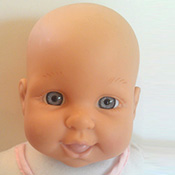 Entertainment Reviewer
and Critic
Gene CeCe, called CeCe (pronounced sissy) by his friends, is French first and a Reviewer and Critic second. He poo poos most entertainment as being beneath his wickedly Gallic sense of humor.

While attending the Can Film Festival in Nice (pronounc it however you want) he and co-hort critic Robby Eggbert (Eggy), created the ⇒BNAFBAWE⇐   otherwise known as the ♥ Baby News Awards For Best And Worst Entertainment ♥
They happily dole out the golden 'Thumbs Up!' or 'Thumb Suck!" awards. (Not to be confused with the The Palme d'Or ("Golden Palm"), the prestigious award given out at the Cannes Film Festival.)
Watch CeCe & Eggy, on For Cryin' Out Loud Baby News (FCOL-BN TV) as they voice their opinions on movies, TV shows, web series, YouTube videos, actors, actresses, directors… and occasionally food.
Stay tuned for deliciously entertaining reviews.
(BTW, Ce Ce in French means: that this)