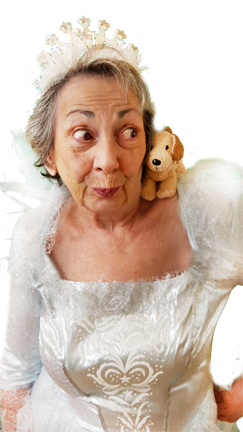 "Listen, pet, I'll tell you why…"
You need a fairy godmother to
bring out your best and cheer for you.

Just think about those days you're down,
wearing nothing but a frown,
Queenie grasps just what you need
a great big laugh, a hug, indeed!
Feeling sad or blue or tired?
Wishing you could just retire?
Here she comes to make you think,
being bored would really stink.
"Silly thoughts like those", she'd say
"simply just get in the way
of doing what you'd really like
such as going for a good long hike."
"Or maybe you would rather see
a monkey swinging in a tree?
Then to the zoo, and please be quick!
We'll catch him reaching for a stick."
A fairy godmother truly cares
she'll listen calmly (though she stares).
She wants to help you feel your best,
and has your interests as her quest.
She guides you when life seems unfair,
and gives you strength – do not despair!
For what is right before your eyes,
is often hard to realize.

She'll wave her wand and 'Boof!" you'll see
her magic sets your mind at ease.
She gives you ways to stop and reflect
even when you are a total wreck.

The world seems good and filled with light,
you smile and think "I can be right!".
And silly thoughts that filled your head
will fall away as you forge ahead.
You'll wonder how you survived before,
her supernatural powers galore!

©Sheri H. Barbera. All Rights Reserved
Save
Save
Save
Save
Save
Save
Save
Save